FashionTelevision celebrates 25 years
The country's most stylish show caps a quarter century with a retrospective publication and a red carpet party.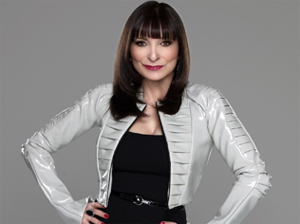 FashionTelevision, Canada's longest running fashion series, is turning 25, and the FT team is celebrating the milestone and promoting their television special with a birthday bash and a 208-page commemorative magazine.
The magazine will be available on newsstands mid-September, and the party will be held Sept. 7 at CTV Queen Street in Toronto. Both will complement the one-hour 25th Anniversary Special, which will premiere on CTV Sept. 12 at 7 p.m., with encore presentations through the week on Star! and FashionTelevisionChannel.
FT worked with Geoffrey Dawe & Co. and Mamone & Partners on the limited edition publication. It will be available in Toronto, Montreal, and Vancouver and will revisit "the innovators, troublemakers and risk takers" the show has covered over the years, says Jay Levine, creator and supervising producer of FT.
"We were witness to an explosive era in fashion. Models became supermodels, designers became celebrities and celebrities became designers," Levine says. "We're telling that story of this explosive time in fashion."
Jeanne Beker, who has been hosting the show since day one, will be holding court at the fashion gala, welcoming Canada's fashion elite and glitterati.
According to Levine, together the magazine and the party are a way to boost the show that has become one of the most successful television brands in Canada, seen in 140 countries.
From Media in Canada.